Trustees Tour Chesterfield's New Centre For Talking Therapies
17th August 2023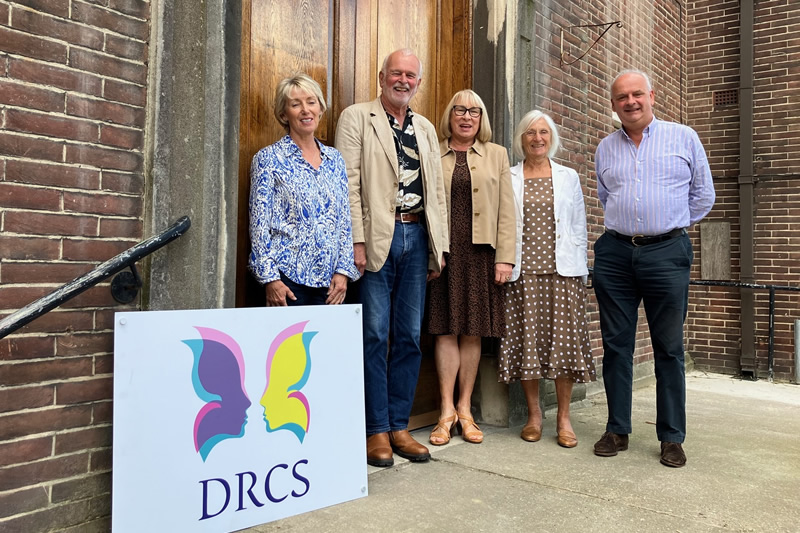 New Chesterfield home visit - Left to right: DRCS trustees Jill Fortune, Phil Askham, Glinys Capewell, Elisabeth Muller and chairman Mark Serby at the new mental health hub in Chesterfield. Issued by Derwent Rural Counselling Service. For further information contact Abby Worsnip at Agent Public Relations on 07815 793106 or email abby@agentpr.co.uk
DRCS' trustees viewed extensive refurbishment work at Chesterfield's new centre for talking therapies.
DRCS, one of the largest third sector providers of counselling services in the region, has undertaken the total refurbishment of the former Register Office on New Beetwell Street.
The three storey centre, which will be officially opened with a launch event on September 22, has become DRCS's new Chesterfield base and includes office space, numerous treatment and consulting rooms, meeting rooms and relaxation space to help cope with the increased demand for DRCS services in the area.
DRCS Trustees were taken on a tour of the building ahead of the therapists moving in from mid August. The building also offers options for businesses to rent rooms and floorspace, with disabled access via new state of the art lift.
Janette Smeeton, chief executive at DRCS, said: "This has been a huge project for our team and one of the most important in the charity's 30 year history. The need for mental health services has never been greater as people struggle post Covid, with the pressures of work and family, and challenging economic times. This will be one of the largest talking therapy centres in the county and we look forward to welcoming people to our new centre, served by our team of experienced therapists."
Mark Serby, chair of DRCS Trustees, added: "The building is fantastic. Not only has DRCS brought an empty facility back to community use, but it has created a valuable asset for people and businesses in the region to access on their journey to wellness and well-being."
The Beetwell Street hub is part of ambitious plans for DRCS which operates a large team of freelance and employed staff based at seven centres across the county covering the Amber Valley, Erewash, Chesterfield, Buxton, Matlock, Ashbourne, Derby, Swadlincote and the Peak District.
Over the last 30 years, DRCS, which can be accessed via self-referral or through a GP, has offered talking therapies for common mental health conditions such as depression, anxiety, stress and long term conditions through pathways including counselling, CBT and guided self-help. In the last eight years, DRCS has been in partnership with Derbyshire Healthcare Foundation Trust to deliver the NHS talking therapies for anxiety and depression service, throughout Derbyshire.
To find out how you can access DRCS services across Derbyshire call 0800 047 6861.
#DRCS #CounsellingServices #Derbyshire
Other Articles
23rd November 2023
14th November 2023
9th November 2023
7th November 2023
1st November 2023
27th September 2023
23rd August 2023
17th July 2023
16th June 2023
1st June 2023