Mayor Officially Opens DRCS' Chesterfield Centre for Talking Therapies
27th September 2023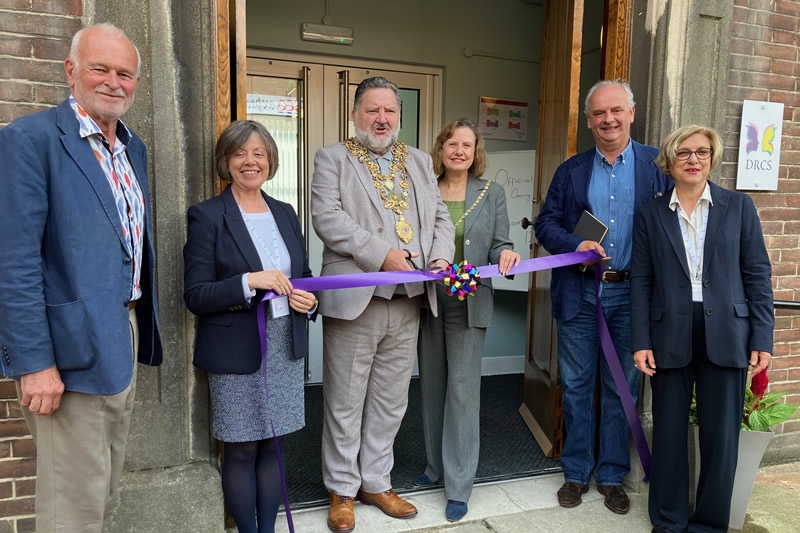 Open to talk (left to right): DRCS Trustee Phil Askham, DRCS Clinical Lead Kim Heappey, Mayor of Chesterfield Councillor Mick Brady, Mayoress Suzie Perkins, DRCS Trustee Mark Serby and DRCS CEO Janette Smeeton at the official opening of the new DRCS mental health hub in Chesterfield. Mayor of Chesterfield Councillor Mick Brady and Mayoress Suzie Perkins officially open the new DRCS mental health hub in Chesterfield.
DRCS' new mental health centre to increase the support available in the community has been officially opened by the Mayor of Chesterfield. Councillor Mick Brady and Mayoress Suzie Perkins met DRCS leaders, trustees and staff and toured the charity's new base for talking therapies in the town, formerly the Register Office on New Beetwell Street.
The centre, which has been totally refurbished by DRCS, one of the largest third sector providers of counselling services in the region, will offer resources, care and treatment for people who have experienced mental health challenges. People can access the centre via their GP, healthcare practitioner, or a self-introduction.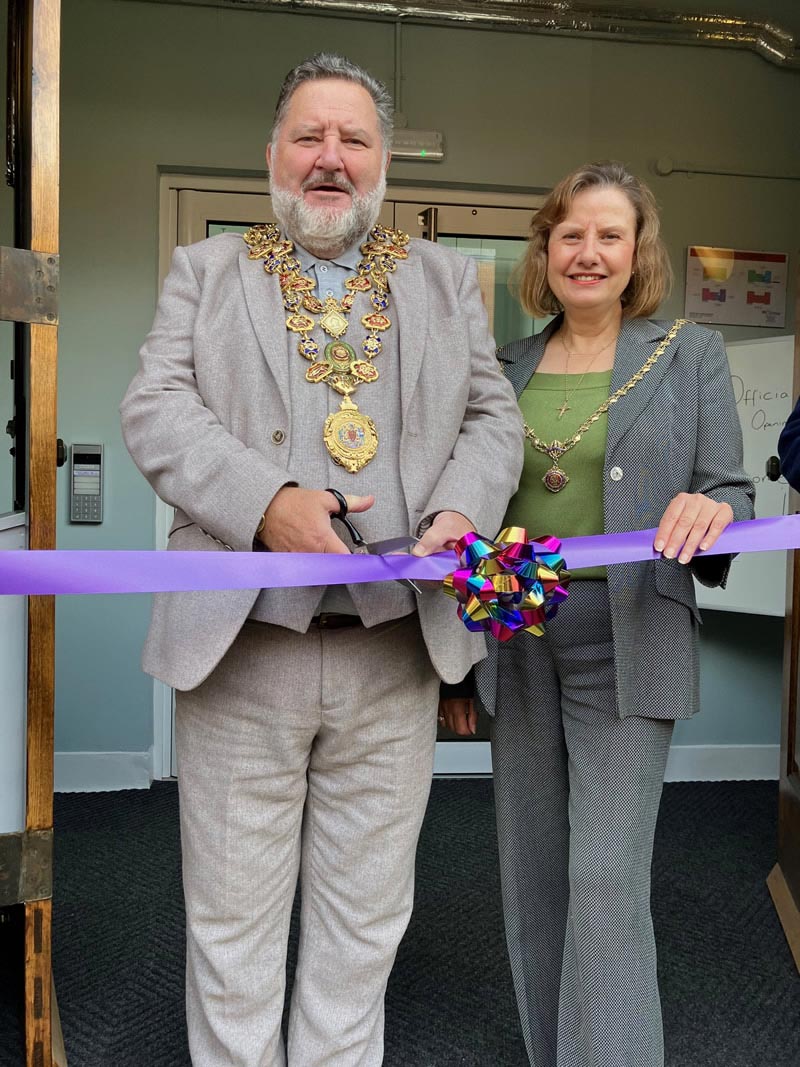 Mayor Brady said: "What a fantastic facility. Not only has it brought one of Chesterfield's most distinctive buildings back into use, but it provides an opportunity for people, in and around the town, to access the mental health support they need at a high street facility, which is so crucial for many people in these difficult times."
The three storey centre includes office space, numerous treatment and consulting rooms, meeting rooms and relaxation space to help cope with the increased demand for DRCS services in the area. Janette Smeeton, CEO at DRCS said the new hub would allow the charity to offer greater access to mental health services and ensure patients receive the care and treatment required.
"As well as a series of consultation rooms where people can be seen by mental healthcare professionals on a one-to-one basis, we also have areas for group sessions, which can be of real benefit to some people."
DRCS' experienced therapists are now operating from the building, which also offers options for businesses to rent rooms and floorspace, with disabled access via new state of the art lift. Mark Serby, chair of DRCS Trustees, added: "One of DRCS' key drivers for this new building was that DRCS didn't want it to be seen as a typical medical-type facility, such as a hospital or health centre, as they didn't want any stigmas attached to it.
"This new centre offers a variety of services and hopefully a brighter future for its users."
The Beetwell Street hub is part of ambitious plans for DRCS which operates a large team of freelance and employed staff based at seven centres across the county covering the Amber Valley, Erewash, Chesterfield, Buxton, Matlock, Ashbourne, Derby, Swadlincote and the Peak District. Over the last 30 years, DRCS has offered talking therapies for common mental health conditions such as depression, anxiety, stress and long term conditions through pathways including counselling, CBT and guided self-help.
In the last eight years, DRCS has been in partnership with Derbyshire Healthcare Foundation Trust to deliver the NHS talking therapies for anxiety and depression service, throughout Derbyshire. To find out how you can access DRCS services across Derbyshire call 0800 047 6861.
#DRCS #CounsellingServices #Derbyshire
Other Articles
23rd November 2023
14th November 2023
9th November 2023
7th November 2023
1st November 2023
23rd August 2023
17th August 2023
17th July 2023
16th June 2023
1st June 2023