New Trustees For DRCS
13th December 2021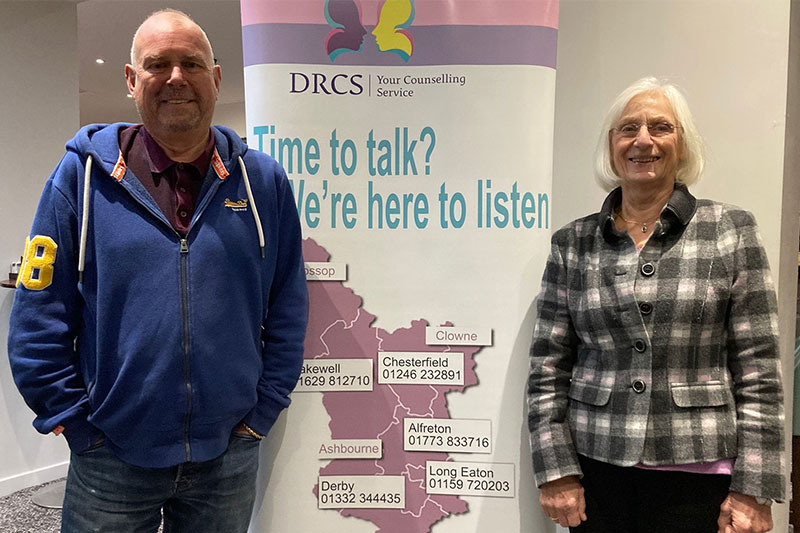 Derwent Rural Counselling Service has appointed two new members to its board of trustees.
Dr Max Biddulph is an Associate Professor at the University of Nottingham's School of Education and has held positions including Director of Postgraduate Taught Programmes and course Leader for the Postgraduate Certificate of International Student Advice and Support.
As a research fellow he was a team member in the Nottingham/ University of Leeds Faculty of Education national project investigating the experience of beginning teachers, undertaken with the Department for Children, Schools and Families.
He has also written numerous papers, journals, articles and books on sexuality, counselling, family matters and teaching and was awarded the University of Nottingham Vice Chancellor's Medal for his outstanding contribution as Chair of the university's Lesbian, Gay, Bisexual, Trans, Questioning (LGBTQ+) staff network in 2017.
Former DRCS psychotherapist-counsellor Elisabeth Muller also joins as a trustee at the Derbyshire charity which supports people with mental health conditions taking the total number of trustees to seven.
Elisabeth has been involved with the service since 2008 working as a counsellor and from 2015 as a clinical supervisor.
Mark Serby, chair of trustees for the charity, said: "I am delighted to welcome Max and Elisabeth onto the DRCS board. They join the organisation as we seek to develop and further our work and delivery of services across the county. Between them they have a wealth of experience and skills which complement that of current DRCS trustees. I look forward to working alongside them."
Ilkeston-based Max said: "My town and my community are very special to me and like many regions across the UK, communities in Derbyshire are just coming to terms with the mental health consequences of the Covid-19 pandemic. I am really looking forward to making a contribution that will help individuals recover from these very challenging times."
Elisabeth added: "I attended trustee meetings as a counsellor representative from 2013 for several years and have been part of the development of the DRCS from its small Donation Service in Bakewell to being part of the IAPT-TMHD service throughout Derbyshire. I feel my work as a physiotherapist and counsellor in different settings, together with life experiences, bring benefits to the trustee role."
DRCS operates as a partner of Talking Mental Health Derbyshire (TMHD), who are a provider of the Improving Access to Psychological Therapies (IAPT) programme for Derbyshire Health Care Foundation Trust. DRCS is the largest provider of counselling in Derbyshire with above national recovery rates and reduced waiting times.
Its counselling services including talking therapies and well-being programmes in Derbyshire and the Peak District, with a 30-year track record of working with individuals suffering from common mental health conditions such as depression, anxiety, stress and long term conditions. DRCS also works with businesses and schools.
DRCS operates from bases in Bakewell, Derby, Chesterfield, Alfreton, Belper, Long Eaton and Ilkeston treating people from the Amber Valley, Erewash, Derbyshire Dales, High Peak, Derby City, North East Derbyshire. It also uses GP premises across the region.
Other Articles
23rd March 2022
4th January 2022
25th November 2021
13th April 2021
13th April 2021
16th March 2021
24th February 2021
8th February 2021
20th January 2021
16th June 2020